Dangerous Goods Containers for Sale
Dangerous goods containers are a must have if your company needs to store potentially hazardous goods. The strong, durable, weatherproof and secure features of general-purpose shipping containers provide an excellent service in protecting all sorts of items in transit and during storage. However dangerous or hazardous materials require an extra level of technology and expertise to ensure the protection of workers and the general public alike. Indeed, Australian Hazardous Goods Regulations require that dangerous goods supplied in Australia should be classified, labelled, packaged, stored and transported according to particular Australian Standards.
At BFS Containers, our many years in the shipping container business has given us a wealth of experience in the regulations required in the handling, transport and storage of dangerous and hazardous goods, and our high-quality containers all adhere to the South African government requirements.
HAZMAT Certified Goods Containers
Our range of HAZMAT certified goods containers means you can safely transport and store a range of hazardous goods, including gas cylinders, flammable liquids, flammable solids, oxidising agents, organic peroxides, toxic substances, corrosive substance as well as a range of miscellaneous dangerous goods. Our containers are not only suited to store dangerous goods, but also non-hazardous materials where there are possible risks with spillage.
HAZMAT Certified Dangerous Goods Containers Available
Class 2 Dangerous Goods Unit (Gas Cylinder Storage) – AS 4332-2004.
Class 3 Dangerous Goods Unit (Flammable Liquids) – AS 1940-2004.
Class 4 Dangerous Goods Unit (Flammable Solids) – AS/NZS 5026-2012.
Class 5.1 Dangerous Goods Unit (Oxidising Agents) – AS 4326-2008.
Class 5.2 Dangerous Goods Unit (Organic Peroxides) – AS 2714-2008.
Class 6.1 Dangerous Goods Unit (Toxic Substances) – AS/NZS 4452-1997.
Class 8 Dangerous Goods Unit (Corrosive Substances) – AS 3780-2008.
Class 9 Dangerous Goods Unit (Miscellaneous Dangerous Goods) – AS/NZS 4681-2000.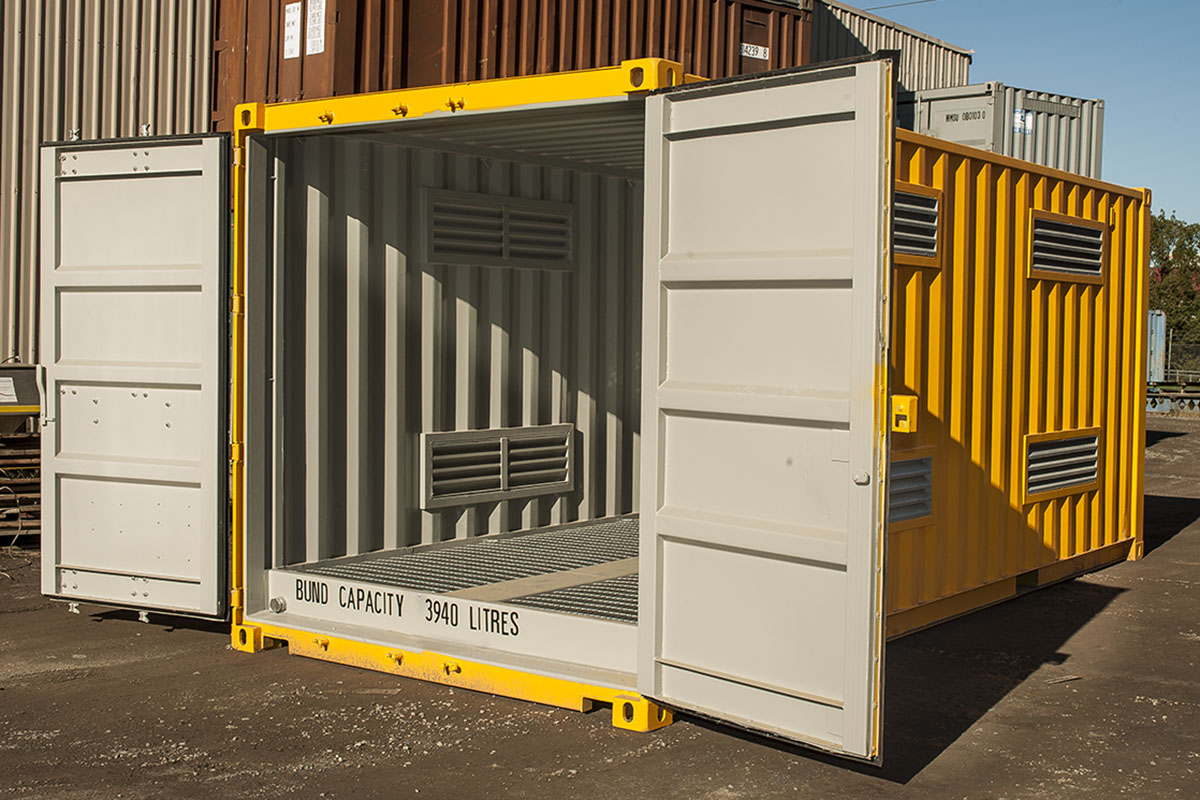 Dangerous Goods Container Features
South African made.
Fully painted premium grade container.
Fully welded steel flooring.
An RHS floor frame.
Front steel bund wall.
All appropriate plates & signage.
Non-spark industrial mesh floor covering (except in Class 2 Dangerous Goods Units).
Internal safety handle.
Lockable valve tap.
Weatherproof vents.
Double opening doors.
Storage capacity of approx 4,000 litres – (3m unit).
Storage capacity of approx 10,000 litres – (6m unit).
Safety signage is also available if required.
Dangerous Goods Container Sizes
Our dangerous goods storage containers are available in 3 metre and 6 metre sizes and are designed to ensure maximum safety to you, your workers, and the general public. We also offer 20 foot high cube side opening containers for maximum storage space, and can also design 40 foot units if required.
Standard South African dangerous goods containers are equipped with an internal safety door handle, the correct ventilation, and a fully welded steel floor. We also equip our dangerous goods containers with a lockable, stainless steel valve that is fitted under the rear sill, ensuring a safe and straightforward method of disposing of waste.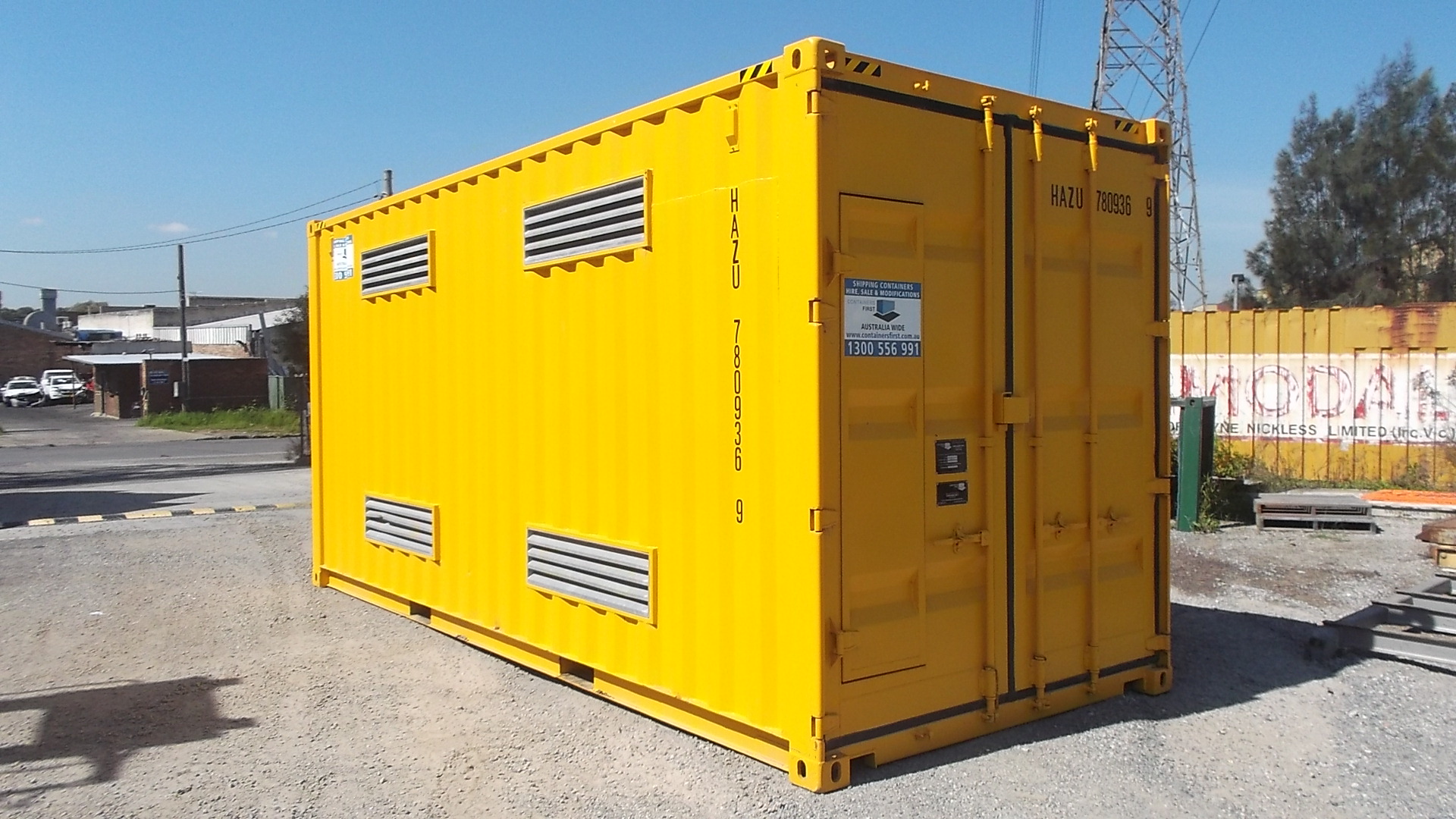 Customised Dangerous Goods Containers Also Available
Of course BFS Containers can also customise containers to suit your specific requirements, so if you have a special challenge that needs to be met, feel free to give us a call on +27 788 127 955 to discuss your particular needs.
Quality Manufacturing Is Vital To Your Safety
Dangerous goods containers need to be of the highest quality possible. It is simply not worth risking your business or your staff's health on substandard containers. At BFS Containers, we are experienced and skilled in all the elements required to create high quality dangerous goods and hazardous containers to meet the regulated South African Standards. So, if you need a dangerous goods container, then make sure you buy it from the experts. Simply fill in our quote form and we will send you our complete price guide, or alternatively, you can call +27 788 127 955 and we can organise everything for you.
Request a Quote on Dangerous Goods Container
Fill in the below form to receive further information.
Or call us on +27 788 127 955. 
Disclaimer: All information is kept secure and will not be shared or sold to any third party